What to look for in a defibrillator cabinet
Choice of materials, heating, thermostats, locked or unlocked?
Your choice of cabinet manufacturer is the most important decision you can make when purchasing as your defibrillator is a critical life-saving piece of equipment which should have the best available cabinet to protect it. There are several different outdoor defibrillator cabinets on the UK market so how do you choose the one that best suits your requirements?
Indoor
If indoor, do you need a locked cabinet for security or unlocked for ease of access? Do you need an alarm to alert staff and security to the door being opened? Do you need to protect the cabinet from mechanical damage? Depending on your requirements we have a cabinet that will cover them. Our indoor cabinets are available in painted mild steel and high impact plastic, locked or unlocked, with or without alarms and strobes, with a choice of colour, yellow or white. Depending on your requirements you can also use our outdoor cabinets indoors if you are looking for the ultimate home for your defibrillator.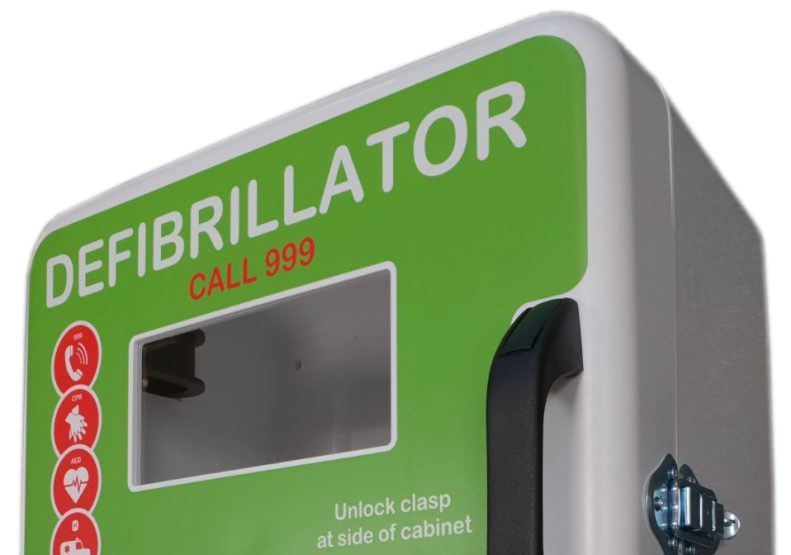 Outdoor
If outdoor, consider where the cabinet will be located as this should influence your choice of materials, waterproofing standards (IP rating) and if an internal heater is required. If your cabinet is to be located in a salt laden (corrosive atmosphere) ie within 10 miles? Of the coast or by a main road where wintertime gritting (salting) of the road takes place then we would recommend our stainless steel or high impact resistant, plastic (polycarbonate) cabinets which are salt spray tested and have a long- life guarantee. If your cabinet is located in a phone box or in a non corrosive area then our mild steel painted or high impact plastic cabinets may be used.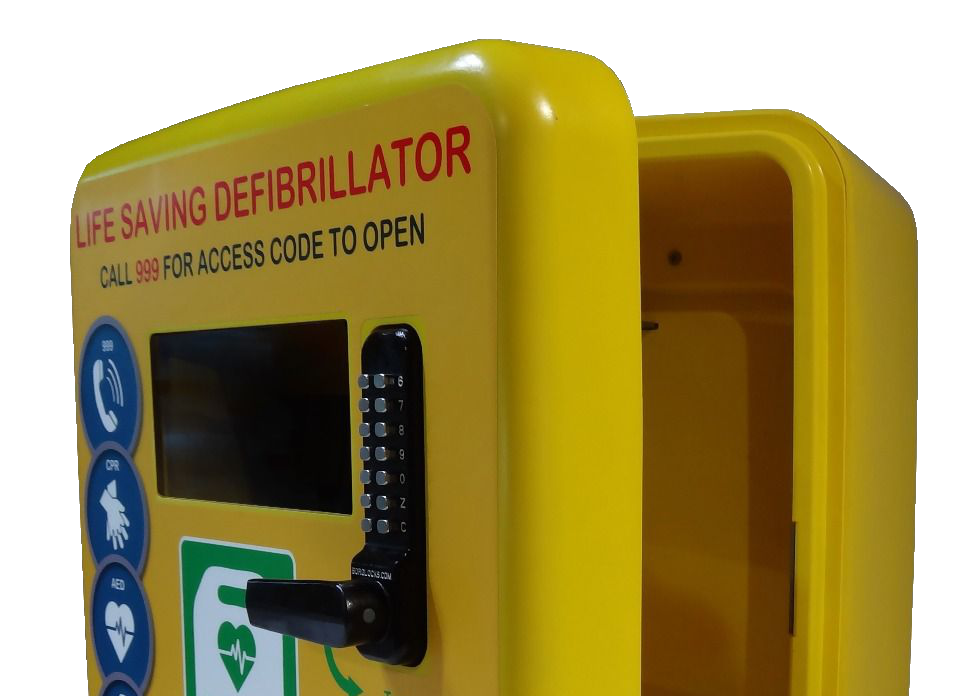 Metal
If metal, choose one which is specifically designed to take a defibrillator and not just a modified standard electrical cabinet. Preferably choose one from corrosion resistant stainless steel as this will give you a long-term solution and you will not have to replace the cabinet during the life of the defibrillator.
Plastic
If plastic, what type should you choose? Several cabinets are available in low grade materials which degrade in natural sunlight over time and are flammable and give off toxic fumes when burnt, not to mention the possibility if the lithium battery on the defibrillator exploding! Choose a plastic (polycarbonate) that is rated to withstand the UV rays of the sun and one which is fire retardant and self- extinguishing. This means that if a flame is put onto the cabinet and removed, the cabinet will not support combustion. Choose a cabinet which has a long- life guarantee, is corrosion resistant and vandal proof and has a high level of waterproofing. Several cabinets available are easy to open by a thief with a screwdriver or tool, thus leaving your valuable defibrillator susceptible to theft. Choose a cabinet that has a proven track record. Cabinets are available on the market where a thief or vandal can remove the door by unscrewing the hinges, putting a screwdriver in a gap by the lock, prising the door at the top or bottom or simply just hitting with a hammer.
Locked
If locked choose a cabinet with a proven and tested lock as there are cabinets available with poor quality door locks which have been known to fail meaning the cabinet cannot be opened in an emergency! A mechanical lock (not powered by electricity) also gives you piece of mind that the AED can be accessed even in a power outage.
Unlocked
If unlocked choose a cabinet with a simple T handle which is easy for anyone to use and is not affected by the weather or slippery hands trying to turn a cover or pull a lever. .
Heated
We would always recommend that your outdoor cabinet is heated for the UK climate. A defibrillator is a critical piece of medical life- saving equipment and needs to be maintained at a temperature of at least 4 degrees Celsius and at a maximum of 35 degrees Celsius. Make sure that the heater has a thermostat to maintain the operating temperature of the defibrillator, also make sure that the heater is not "over rated" for the size of cabinet. We use bespoke software which calculates the maximum heater size for the dimensions of our cabinets. There are cabinets on the market where the heaters are too powerful and have resulted in the defibrillator overheating and failing. This problem also affects insulated cabinets as they can become like an oven in the summer and "cook" the defibrillator.
Lighting
It's important to site your cabinet in a well- lit location with clear signage and easy to find in an emergency. A well- lit location ensures keypad digits are clearly visible by night as well as day ensuring ease of access. All Defib Store cabinets come with lighting inside the cabinet enabling the rescuer to grab the defib, rescue pack and any first aid accessories.
Alarms
Alarms on a cabinet not only act as a security measure but can alert passers by to the emergency and bring additional help. Alarms are an option on all our indoor and outdoor cabinets.
Warranty
An AED is a valuable piece of life saving medical equipment. Housing the defibrillator in a cabinet with a long warranty gives the owner the assurance that the AED can be kept safe for the warranty period of the AED (average 8 years). Warranties vary from 1-10 years on outdoor cabinets.
Waterproofing
If your cabinet is outside then it must be waterproof! Waterproofing is measured using an IP code which stands for ingress protection. The international standard for this is EN 60529 however we can simplify this to the following: An outdoor cabinet should have a minimum rating of IP66 What this means is that it is totally sealed to any dust or dirt from outside and that it can withstand high pressure hose pipes which will make it suitable for the average British summer! There are several cabinets on the market which fail to meet this level of protection and thus let in water and dirt with sometimes catastrophic consequences. In short, CE-TEK (our sister company) pioneered the use of outdoor defibrillator cabinets in the UK and through Defibstore offer the best and highest rated cabinets available. Whilst our cabinets may not be the cheapest, they are certainly the best! Please feel free to speak to one of our sales advisors who are able to advise the most suitable cabinet for your application.